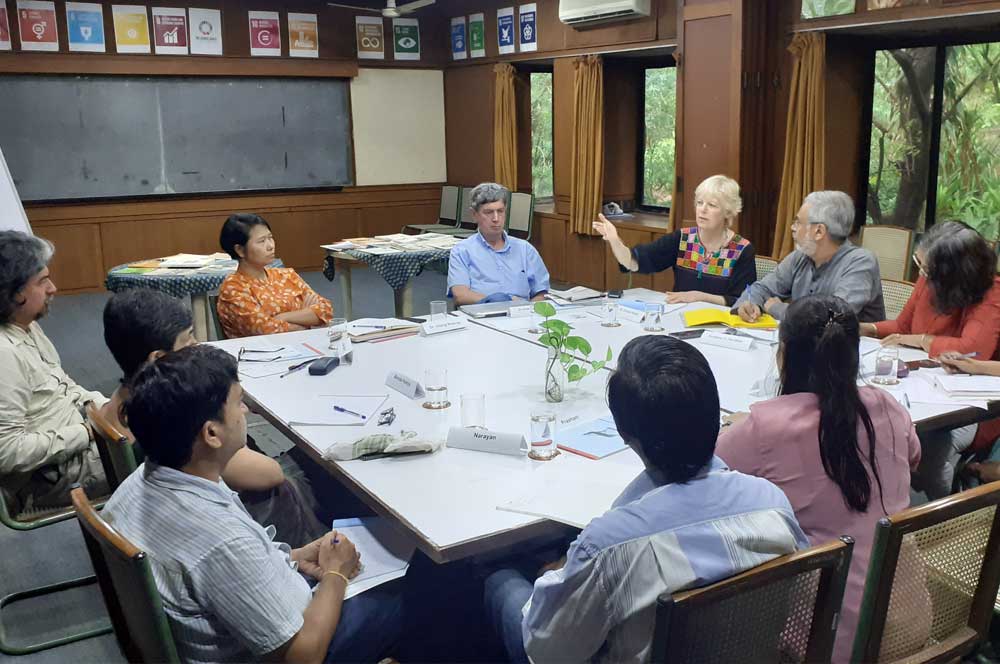 Handprint CARE workshop, September 5 and 6, 2019
The Handprint-CARE workshop was held in CEE Ahmedabad on September 5th and 6th 2019. The two-day meeting hosted at CEE with NCERT as an official partner was used to plan country- based materials adaptation and teacher education work on ESD pedagogy.
The team also presented a joint paper on ESD pedagogy at the International Conference on Sustainability Education (ICSE), New Delhi on 9th and 10th September, 2019.
ESD Expert-Net Partners
Mr. Rob Odon, Environmental Learning Research Centre, Rhodes University, South Africa
Ms. Chong Shimray, National Centre for Educational Research and Training, India
Mr. Juan, Intercultural University of Veracruzana, Xalapa, Mexico
Ms. Christa Henze, University Duisburg-Essen, Germany
This workshop reviewed the outcomes of Training of trainers (ToT) pilot test and the overall Handprint –CARE activities followed by the Handprint-CARE rationale and discussions. There was a session on storytelling, its approaches and impacts and also planned the country based adaption of ESD mateirals and teacher education work on ESD pedagogy especially" Kamishibai "an old Japanese story telling style which eventually opened a space to present and share the outcomes and receive new approaches, ideas, perspectives and feedbacks necessary to develop the tools based on ESD methodology. The members presented reports and guidelines for ESD for school subjects in their respective countries. The workshop also reviewed the draft papers and materials through the collaboration and to be submitted for publication in the CEE India Journals on further development of papers followed by drafting the scope of the contents for the project report to be tabled at the annual ESD expert Net meeting in November 2019 in Mexico. Members also paid a small visit to Gandhi Ashram and discussed the Gandhian Pedagogy on Nonviolence.
The meeting at CEE reviewed emerging Hand Print- CARE materials and draft papers included one additional participant from CEE India to help frame the materials for sharing these with partners through the Handprint web site.
Workshop participants
Mr. Kartikeya V Sarabhai
Ms. Madhavi Joshi
Ms. Mamata Pandya
Ms. Archana Panicker
Ms. Khusbu Shah
Ms. Meena A S
Mr. Prashant Moon
Mr. Narayan Dutt Sharma